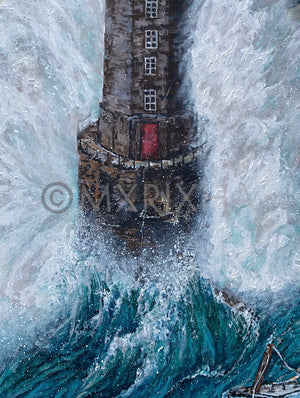 Tawakkul
Poster print - on luxury 280 gsm paper stock- shipped in tube 
تَوَكُّل - Tawakkul 
Tawakkul, is something we should all have, Indeed Allah loves those who put their trust in him, you may not know which direction you're going but you believe this is the best plan that could ever be for you.

To understand that it takes a lot of strength to go through life not knowing what may happen.
Life is swimming with the waves and all we can do is ride it out and pray for the best.
 "Do the people think that they will be left to say, 'We believe' and they will not be tried?" (Quran, 29:2)
Standing as a sharp reminder on the power of Allah, this verse directly tells us that we should all be expected to be tested from Allah Himself – especially those who claim to be believers. Knowing that we will be tested, and knowing that we must acknowledge the hardship of life.

Time- 52 hours-
Original is Acrylic painted on hardboard wood
COPYRIGHT CONDITIONS 
You agree not to reproduce, duplicate, copy, sell, resell or exploit any portion of the Artwork.
Please allow 2-18 days for processing of all prints before receiving the tracking number.