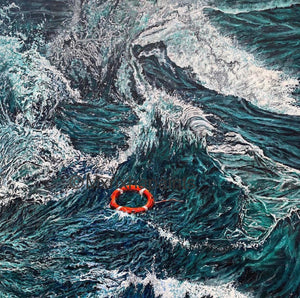 Hidayah
Inspired by Surah Ad Dhuahaa.
Surah Ad Duhahaa was revealed to the Prophet Mohammed صَلَّىٰ ٱللَّٰهُ عَلَيْهِ وَسَلَّمَ at a time when he had not received any revelation for six months, not even in the form of a dream! The Prophet صَلَّىٰ ٱللَّٰهُ عَلَيْهِ وَسَلَّمَ was in a very disturbed attempt of mind, feeling negative, depressed and believing that Allahﷻ was displeased with and had forgotten him, not wanting him to be a Nabi any longer. 
Wa wa jadaka daal lan fahada-And He found you lost and guided (you). 93:7.
How many of us, even though being born a Muslims, have found ourselves misguided and straying away from Islam at some point, not feeling guilty for committing haram. It was Allahﷻ that gave us that hidaya and brought us back to the straight path to Him and made us practising Muslims. 

Walal-aakhiratu khairul laka Minsk-oola- and the hereafter is better for you then the first (life). 93:4.
This reminds us that life in this world is temporary and that the Aakhira is certainly better for us than this life could ever be. 


Original is Acrylic painted on hardboard wood
COPYRIGHT CONDITIONS 
You agree not to reproduce, duplicate, copy, sell, resell or exploit any portion of the Artwork.
Please allow 2-18 days for processing of all prints before receiving the tracking number.
Poster prints - on luxury 280 gsm paper stock -shipped in tube