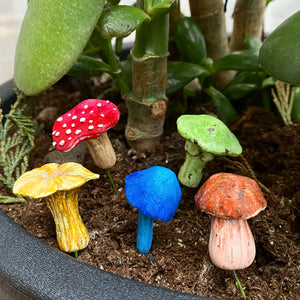 Handmade clay mushrooms 5 pack
Plant decor or a cute touch to your room!
• sculpted polymer clay & hand painted
•metal wire attached to pop into your plant
• measure approximately 2-3cm each
 5 pack includes 1 of each 
•amanita muscaria (red dotted)
• entoloma hochstetteri (blue)
•porcini (brown)
•chanterelle (yellow)
•green amanita (green)
If you'd like a different selection instead of 1 of each- please note which ones you'd like in the cart notes!
e.g - '1 red, 2 blue, 2 yellow'
Please note these are handmade so they may differ in shape and may not be accurate!