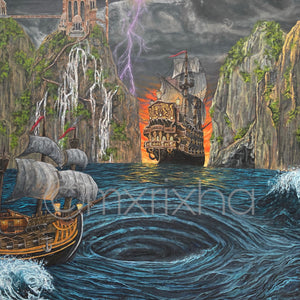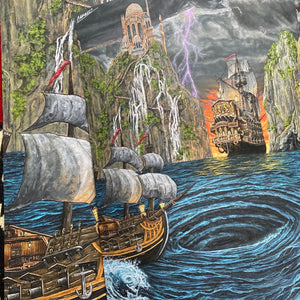 Ethereal falls
Ethereal falls Art print 
Poster Print- on luxury 280 gsm paper stock- shipped in tube 
Please allow 2-18 days process of print to ship
Another mystery land, an idea of a dream I had 🌿
Anyways, We all wants this afterlife right? but without working for it..
whether thats choosing this dunya in a way that it's destroys your afterlife, or face calamities because of it. We all get so caught up in something temporary or not permissible and then forget the consequences of our actions. We want the afterlife? Turn back to Allah ﷻ , remember what is ordained
upon us & seek sincerity, then watch everything fall into place.
And We divided them throughout the earth into nations. Of them some were righteous, and of them some were otherwise. And We tested them with good [times] and bad that perhaps they would return [to obedience].- [Al-Araf 7.168].
Original painting took 63 hours - 3 months acrylic on wood
COPYRIGHT CONDITIONS 
You agree not to reproduce, duplicate, copy, sell, resell or exploit any portion of the Artwork.