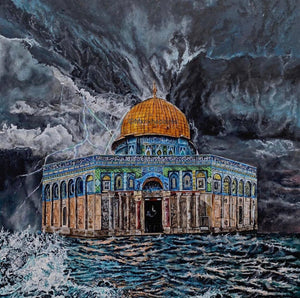 Dome of the rock - 'A Simple Storm'
Pre order
Poster Print-  on luxury 280 gsm paper stock- shipped in tube
This art piece was inspired by all the ayahs in the Quran where Allah ﷻ talks about nature and how He uses nature to show us His power ﷻ.
Storms and rough waters demonstrate immense power and beauty within themselves as Allahﷻ says in the Quran:

"Have you guaranteed that the one in the heaven will not send upon you a violent storm?" (67:17)
Original is Acrylic painted on hardboard wood 

COPYRIGHT CONDITIONS 
You agree not to reproduce, duplicate, copy, sell, resell or exploit any portion of the Artwork.
 We are pleased to offer a 14 day returns policy. Please see our Shipping & Returns policy for full details.